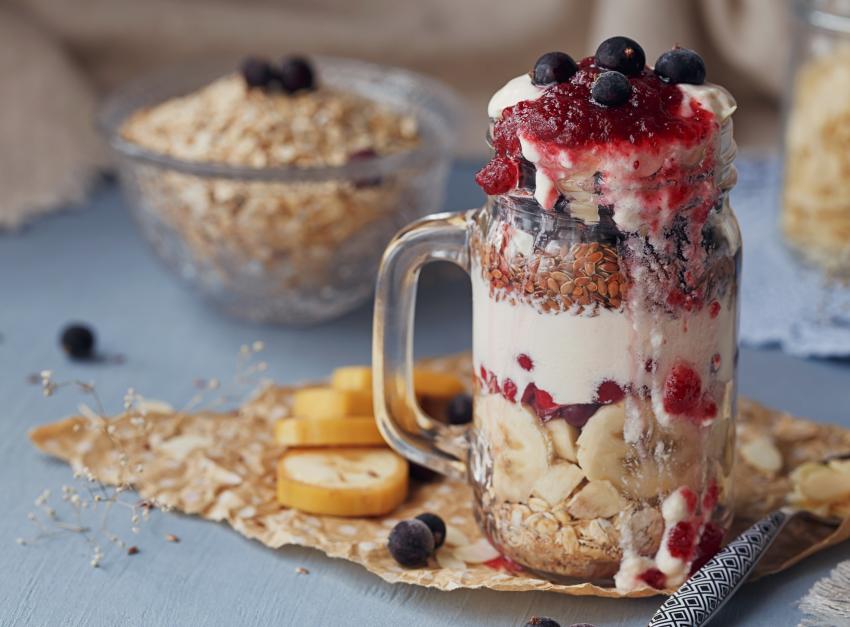 When Breakfast needs to be 'on the go' these are my 'go to' Jars! 
Sometimes there simply isn't time to sit down with the family for breakfast and that's when a healthy wholefoods diet is key to success, well it is for me anyway. I can simply mix a quick and nutritious shake and drink it on the go. But how about when you need more than that? That's when my latest invention is perfect. The breakfast Mason Jar smoothie bowl! Yes that's a smoothie in a jar come bowl - but really a jar! It makes a healthy breakfast with friends or at your office desk. You'll fit in perfectly even if all your colleagues are munching away on unhealthy, sugar laden breakfast cereals. And even better when they're all bemoaning the fact that they're hungry at 11am you'll still feel satisfied. 
Here's a couple of my favourite flavours
Lemon, Strawberry Smoothie Bowl (Jar!)
Ingredients
270ml unsweetened almond milk
2 scoops (1 x 20g serving) Arbonne Vanilla Protein shake
1 cup frozen strawberries
¼ - 1/2 frozen avocado
2 Tablespoons lemon juice
Topping: gluten free granola, sliced frozen strawberries and sliced fresh or frozen banana, lemon zest
Preparation
Add ½ the almond milk and Vanilla protein to a blender or Nutri-bullet and blend until combined.
Add strawberries, avocado and lemon juice, blending until combined, adding more almond milk as required (you want this smoothie to be thick so add in small amounts).
Layer a Mason Jar with smoothie, granola, strawberries and banana slices, and more smoothie. Top with another layer of granola, strawberries and banana and finish with a little zest of grated lemon.
Grab a spoon and eat immediately or pop the lid on and take it with you to on-the-go.
Smoothie Option: To turn this bowl into a smoothie simply increase the almond milk and blend in some ice and reduce the amount of avocado. Omit toppings.
Raspberry Coconut Smoothie Bowl (Jar!)
Ingredients
Raspberry Layer Ingredients
​Vanilla Layer Ingredients
1 frozen banana
130ml coconut milk
2-3 tablespoons desiccated coconut
1 scoop (10g protein) Arbonne Vanilla Protein Powder
1 tea spoon vanilla essence
Topping Options 
2 Tablespoons gluten-free granola
1-2 tea spoons hemp seeds
2 tea spoons goji berries, cherries or other dried fruit, soaked
1 tea spoon desiccated coconut
Fresh raspberries or cherries and banana slices
Preparation
Combine all ingredients for vanilla layer in a blender or Nutri-bullet and blend until smooth.
Set aside in a chilled glass bowl or use a separate Nutri-bullet cup to blend raspberry Ingredients
Combine all ingredients for Raspberry layer in a blender or Nutri-bullet and blend until smooth.
Layer raspberry and vanilla smoothie with granola, berries, banana slices and coconut toppings in a chilled glass Mason jar or bowl if you'e eating at home.
Enjoy!
Ali's favourite Granola Recipe
This is a perfect breakfast granola but makes a great snack on the way through the kitchen too. I keep a jar handy in my office for when the munchies strike and i can't get away from my desk! 
Ingredients
3 tablespoons coconut oil melted
255g gluten free oats
170g raw buckwheat groats or quinoa
 220g coconut sugar
130g pumpkin seeds
1 ½  tea spoons ground ginger
1 ½ tea spoons ground cinnamon
½ tsp ground nutmeg
1 teaspoon vanilla extract
½ tea spoon pink Himalayan sea salt
Preparation
Preheat oven to 180 C / 350F Gas mark 4. Line a baking sheet with parchment paper.
In a saucepan combine the coconut sugar and salt with 125ml water and heat slowly until sugar and salt have dissolved and you have a syrupy consistency. Do not boil.
In a mixing bowl, combine oats, buckwheat, pumpkin seeds, cinnamon, ginger, nutmeg and vanilla extract.
Add the coconut oil and sugar syrup to the dry ingredients and mix thoroughly ensuring it is totally coated.
Spread onto baking sheet ensuring it is evenly spread and making a 1cm layer.
Bake for about 30 minutes or until golden, stirring every 10 minutes.
Leave to cool on the tray and once cooled break into pieces and store in an airtight container.
It will keep in an airtight container for at least 2 weeks - if you can resist it that long!